Stay Ahead, Stay Connected Anytime, Anywhere
Stay Ahead, Stay Connected Anytime, Anywhere
Always stay connected with eSIMple virtual SIM. Transform your device into an internet
gateway and stay connected in over 69 countries at rates that local operators cannot match.
It's really quite Simple: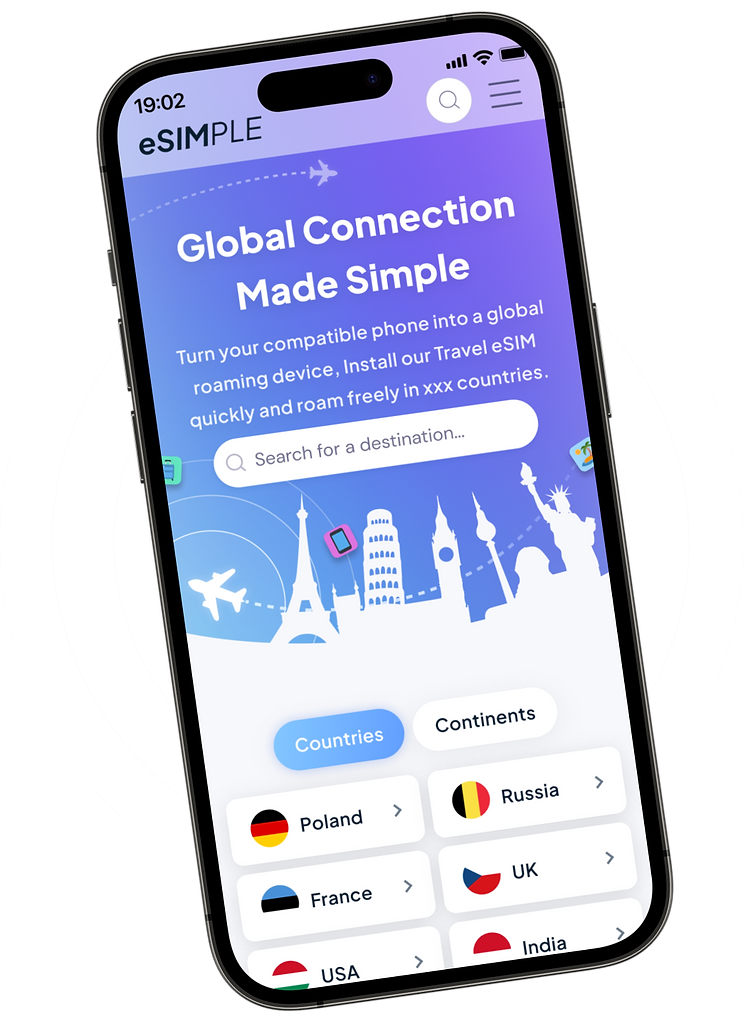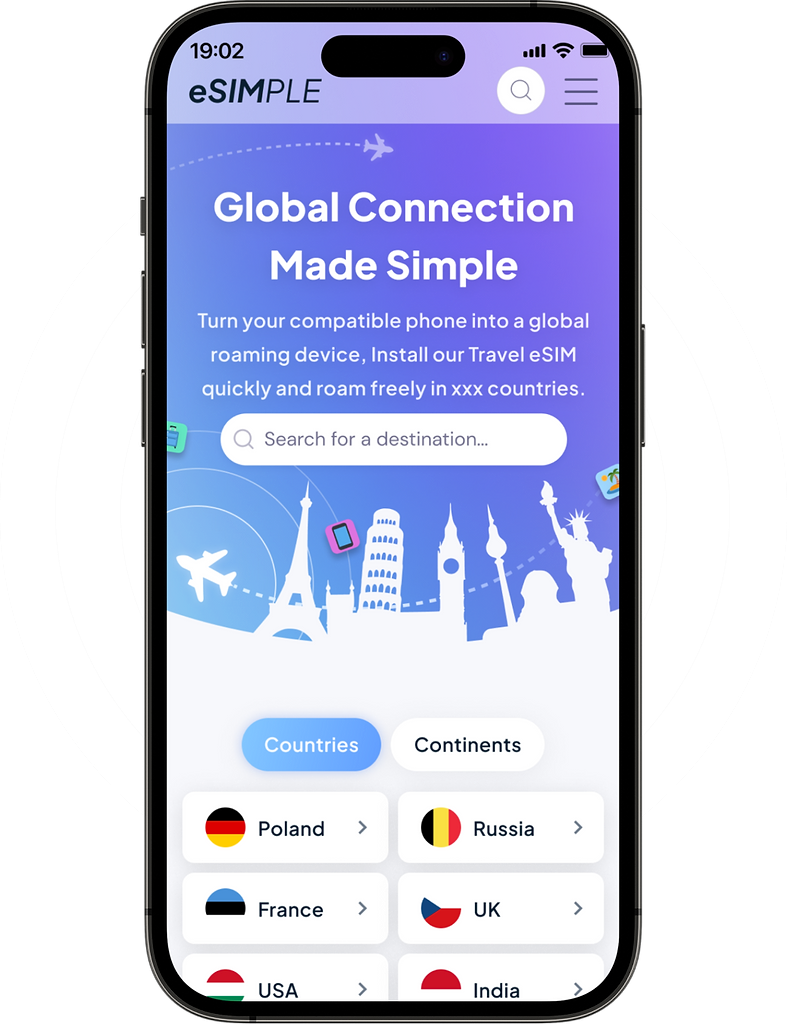 Choose the location, data size, and trip duration to purchase an eSIM plan.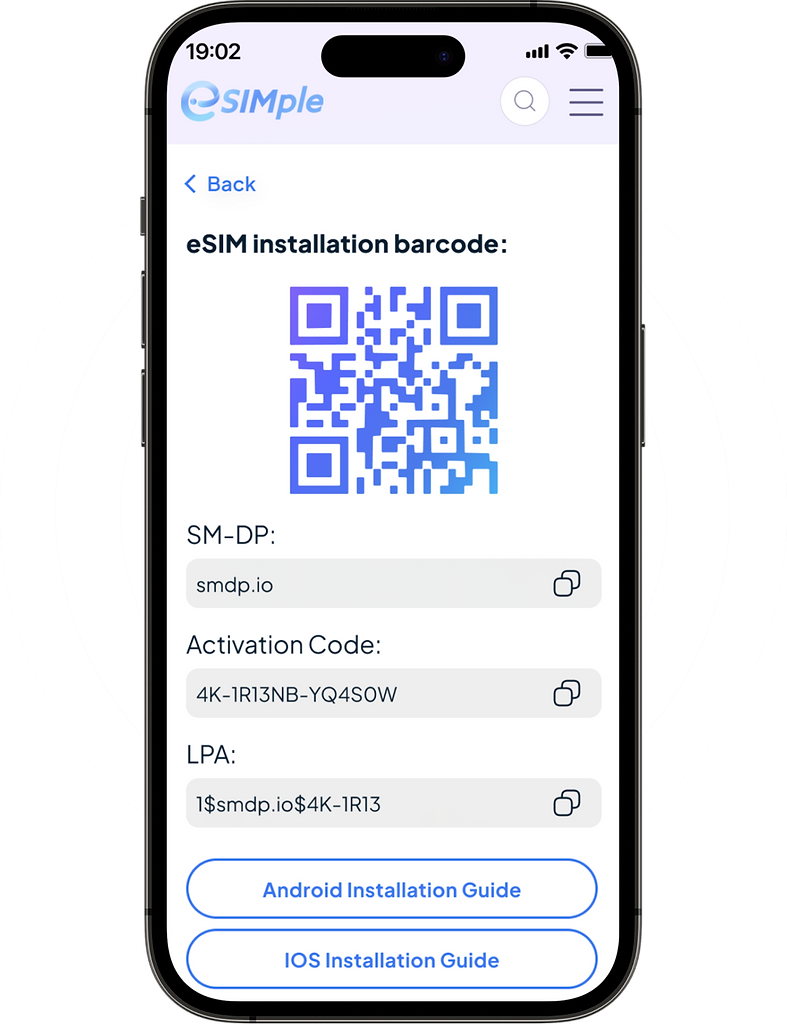 Check your inbox for an email from us containing your eSIM's operating instructions, and scan the included barcode.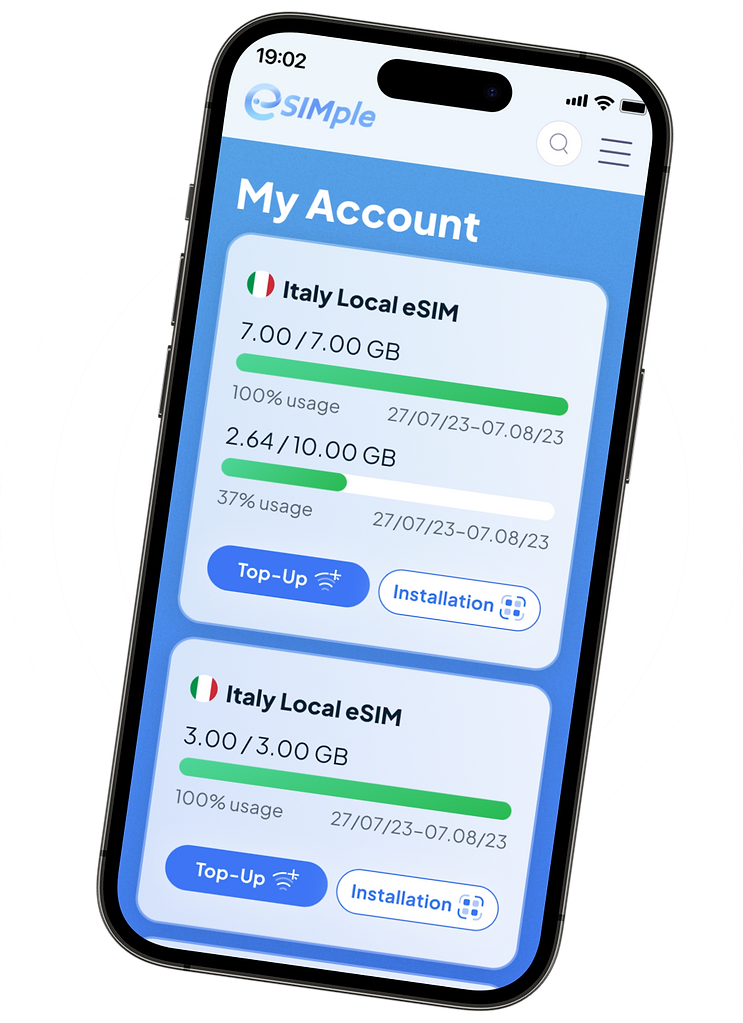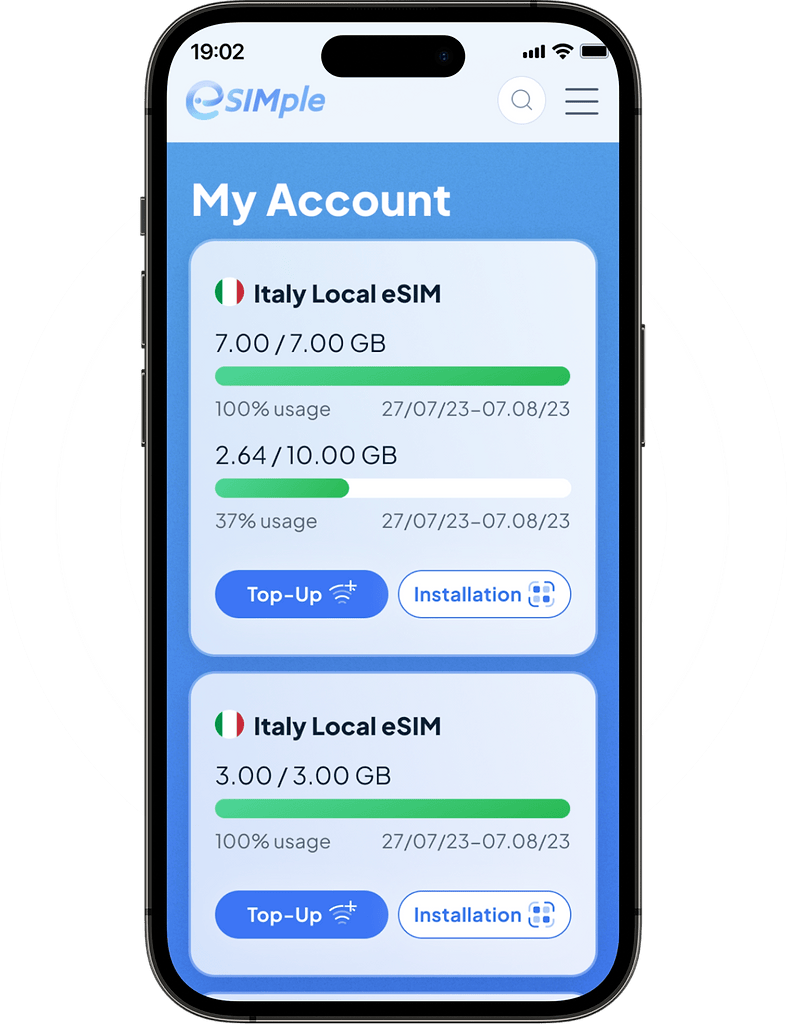 Follow the easy steps detailed in the mail, and voila – you're all set and connected! 
The electronic SIM (eSIM) is a digital alternative to physical SIM cards that offers users the convenience and efficiency of mobile connection. With eSIM, users can easily select carriers and plans without the hostel of getting a local plan or switching SIMs. This technology represents the future of mobile communications and is poised to revolutionize the industry.
eSIM is a perfect solution that suits everyone – whether you are guys going on a long trip, businessmen making forays abroad, going on a short vacation, or digital nomads who plan to travel for a long time without a return date. Everyone will find the perfect package with us. In addition, our eSIM will suit you if: 
iPhone XS
iPhone XS Max
iPhone XR
iPhone SE (2020)
iPhone 11
iPhone 11 Pro
iPhone 11 Pro Max
iPhone 12
iPhone 12 mini
iPhone 12 Pro
iPhone 12 Pro Max
iPhone 13
iPhone 13 Pro
iPhone 13 Pro Max
iPhone 13 mini
iPhone 14
iPhone 14 Pro
iPhone 14 Pro Max
iPhone 14 Plus
How soon will I receive my eSIM?
Once you've purchased one of our packages, the QR code for your eSIM will be sent to your registered email. To activate your SIM, scan the QR code. 
What if I lose or accidentally delete my eSIM QR code?
If your QR code disappears or gets deleted, please get in touch with our customer service team at (email). They'll swiftly resend the code to your email. 
An eSIM, or embedded SIM, is our digital solution that enables you to connect to cellular networks without needing a physical SIM card. With our eSIM, you can effortlessly switch between carriers and plans, making your connectivity experience seamless and convenient.
Who can I reach out to in case of an issue?
We prioritize our customers' satisfaction above all. We offer dedicated customer service and technical support. Our expertly trained communication team is at your service round-the-clock and will ensure your issues are addressed promptly and effectively.
Is my device compatible with your eSIM?
 Our eSIM is compatible with many modern smartphones, tablets, and wearables. You can check our compatibility list or contact our support team to confirm if your specific device supports our eSIM technology.  
We understand that security is a top concern for anyone who uses our technology. That's why our eSIM is designed with the latest encryption and can only be activated with proper authorization. Rest assured that we take your safety seriously and aim to provide a worry-free experience.
How many times can I use my eSIM card?
The eSimple eSIM can be recharged as needed in its designated country and easily reinstalled with the guide in your account for uninterrupted connectivity. 
When is the best time to activate my eSIM?
We suggest activating your eSIM before you embark on your journey. You can also start it upon reaching your destination, but remember, you will need WiFi for this.
Can I renew my package on my eSIM?
Absolutely! You can refresh your eSIM package numerous times. Go to " My eSIMs " and select " Add Data. " In no time, you'll be back to enjoying seamless internet connectivity with your eSimple eSIM. 
Just came back from an awesome trip and I owe a lot of it to eSIMple. Their service is ridiculously easy to use and super reliable. I never had to worry about losing my connection while exploring new places. If you're planning to travel, you gotta check out eSIMple. It's a total game-changer!
eSIMple made my trip so much smoother. Easy to use and solid connection - totally recommend it!
eSIMple is seriously the best thing I packed for my trip. Setup was a piece of cake and the connection was always top-notch. If you're hitting the road, make sure eSIMple is with you.
Traveling with eSIMple was a breeze! It was as simple as scanning a QR code and voila, I had an internet connection that didn't fail me. There was no need for hunting down WiFi or dealing with sluggish hotel internet. So, next time you pack your suitcase, remember to also pack eSIMple
Using eSIMple was a game-changer on my recent trip. It's user-friendly and the connection is super reliable. Trust me, eSIMple is a must-have for any traveler.